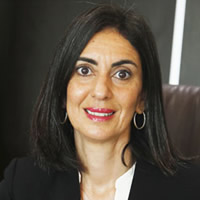 Pack basic
Nadia Fettah Alaoui est issue d'une famille moyenne, un père ingénieur et d'une mère brillante et très cultivée. Elle intégre la mission française, puis les classes préparatoires et HEC. Elle n'avais pas de projet professionnel clair, si tant est qu'on puisse en avoir un à 17 ou 18 ans, mais une école de commerce lui semblait offrir de nombreuses opportunités. Elle passe donc ses classes préparatoires en France.
Elle démarre sa carrière en 1997 en tant que consultante chez Arthur Andersen après son diplôme à HEC Paris. En 2000, elle crée et gère Maroc Invest Finances Group, fonds de capital investissement.
En 2005, elle rejoint le Groupe au sein de CNIA Assurance et occupe la fonction de Directeur Général en charge du Pôle support et Finances. En 2010, elle accompagne SAHAM Group dans ses opérations de fusions-acquisitions en Afrique et Moyen-Orient.
En 2013, elle devient Directrice Générale Déléguée des Finances et M&A de SAHAM Group, avant qu'elle ne soit désignée, Directrice Générale Déléguée des Finances & Opérations de SAHAM Finances, en 2014.
Elle est par ailleurs, Fondatrice et Administratrice du Club des Femmes Administrateurs au Maroc et membre du réseau international « Women Corporate Directors ».
Elle avait obtenu le prix du « CEO of the year » à l'Africa CEO Forum 2018 à Abidjan.
En octobre 2019, Nadia Fettah Alaoui a été nommée ministre du Tourisme, de l'Artisanat, du Transport aérien et de l'Économie sociale du Maroc
Elle est connue pour être une grande travailleuse. Elle est ferme et bon stratège.
2021, Nadia Fettah Alaoui, est nommée ministre de l'Economie et des Finances