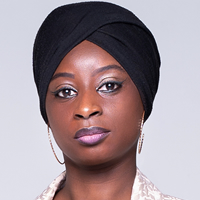 Pack basic
– Bonjour, avant tout, pouvez-vous vous présenter, nous raconter votre parcours et vos activités
Je m'appelle Diaba DIAWARA, 36 ans d'origine malienne/sénégalaise. Je vis en France pour l'instant mais l'objectif à très court terme est d'aller vivre ailleurs.
– Et votre vie professionnelle
Je suis la fondatrice de TIME TO BE YOURSELF; Une entreprise dédiée au développement de la femme par le biais de formations qui aident à la reprise de confiance en soi. Je suis certifiée depuis maintenant 1 mois et je continue de développer mon projet
– Et pourquoi ce secteur d'activité
Tout d'abord car j'avais une histoire personnelle à raconter et pour aider toutes ces femmes qui se reconnaîtront en moi à travers mon histoire
– Quels sont vos projets à venir ?
Développer mon projet en Afrique
– Quels sont les moments ou événements qui ont changé votre vie
Un divorce qui m'a permise de me recentrer sur moi même et de surtout apprendre à me connaître et devenir la meilleure version de moi même.
– Quel est votre conseil pour les femmes qui veulent réussir ?
La RÉSILIENCE ! Soyez fortes mesdames, Nous sommes des LIONNES !
– Votre avis sur la situation de la femme
Les femmes portent en elles le poids du monde mais nous avons aussi cette force pour tout réussir ! Il n'est pas toujours facile d'être une femme mais à nous de nous mettre en valeur
– Votre avis sur le site ?
Bravo pour cette initiative qui je trouve est plus que valorisante !
– Dernier mot ?
Merci de donner la parole aux femmes !
Entretien réalisé par Aziz HARCHA
Mars 2022
Voir cette publication sur Instagram