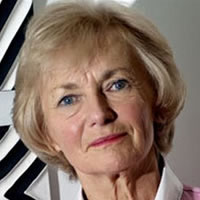 Born in 1944 in Wales,Glenys Kinnock studied Education and History at Cardiff University where she met her husband and future Labour Party leader, Neil Kinnock. She taught for 30 years, played the role of the dutiful politician's wife and also remained politically active in her own right, campaigning on issues such as nuclear disarmament, women's rights and Africa.
After her husband's resignation as Labour Party Leader in 1992 her own political career blossomed. She was elected MEP for South Wales East in 1994 and continued to be an MEP until 2009.
She was awarded a life peerage when she joined the government in 2009 and in March 2010 she led the Government's work to tackle violence against women overseas. She is currently the Opposition Spokesperson for the Department of International Development in the House of Lords.