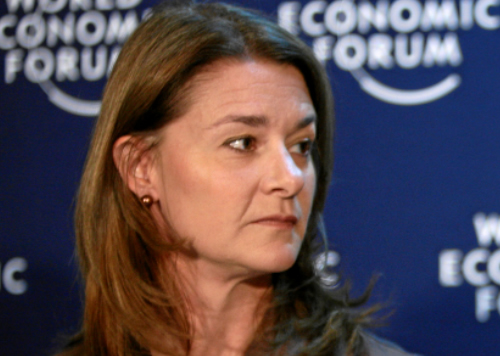 Melinda Gates is co-chair of the Bill & Melinda Gates Foundation, a businesswoman and a mother.
She is an American philanthropist and a former general manager at Microsoft, the world's largest computer software company. In 2000, she and her husband Bill Gates co-founded the Bill & Melinda Gates Foundation, the world's largest private charitable organization as of 2015. Gates has consistently been ranked as one of the world's most powerful women by Forbes.
Gates' first job was tutoring children in mathematics and computer programming. After graduation, she became a marketing manager with Microsoft, being responsible for leading the development of various multimedia products. These included Cinemania, Encarta, Publisher, Microsoft Bob, Money, Works (Macintosh) and Word. She worked on Expedia, which became one of the most popular travel booking websites. In the early 1990s, Gates was appointed as General Manager of Information Products, a position which she held until 1996. She left Microsoft that year to focus on starting a family.
Gates served as a member of Duke University's Board of Trustees from 1996 to 2003. She attends the annual Bilderberg Group conference and has held a seat on the Board of Directors of The Washington Post company since 2004. She was also on the Board of Directors at Drugstore.com, but left in August 2006 to focus on philanthropy projects. Since 2000, Gates has been active in the public eye, stating "As I thought about strong women of history, I realized that they stepped out in some way". This has helped her work become recognized, while shaping and delivering goals of the Bill & Melinda Gates Foundation. As of 2014, Bill and Melinda have donated US$28 billion to the Foundation. In 2015 Gates founded Pivotal Ventures as a separate, independent organization to identify, help develop and implement innovative solutions to problems affecting U.S. women and families.