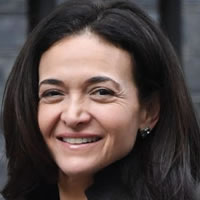 Pack basic
Sheryl Sandberg (1969- ) est une femme d'affaires américaine qui est actuellement la directrice de l'exploitation de Facebook. Elle est née le 28 août 1969 à Washington D.C., aux États-Unis, et a grandi à North Miami Beach, en Floride. Sheryl a étudié l'économie à l'Université de Harvard et a obtenu son diplôme en 1991.
Après avoir obtenu son diplôme, Sheryl a travaillé pour le département du Trésor des États-Unis et pour le cabinet de conseil McKinsey & Company avant de rejoindre Google en 2001. Elle a occupé de nombreux postes de direction à Google avant de devenir la directrice de l'exploitation de Facebook en 2008.
En tant que directrice de l'exploitation de Facebook, Sheryl est responsable de la stratégie de l'entreprise et de la gestion de ses opérations quotidiennes. Elle est également connue pour son travail en faveur de l'égalité des sexes et de l'autonomisation des femmes dans le monde des affaires. Sheryl est l'auteure de plusieurs livres, notamment "Lean In: Women, Work, and the Will to Lead" (« S'engager : les femmes, le travail et la volonté de diriger »), qui s'est classé numéro un des meilleures ventes du New York Times. Elle est considérée comme l'une des femmes les plus influentes et les plus respectées de notre époque.
Pourquoi nous n'avons que trop peu de dirigeantes