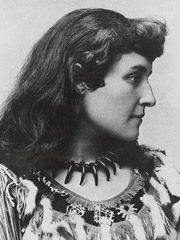 Pack basic
Pauline Johnson (1861–1913)
Poète et conférencière. Pauline Johnson (Tekahionwake) est reconnue pour ses poèmes sur le patrimoine autochtone. Fille de George Johnson, un chef mohawk, Pauline Johnson crée des contes sur les femmes et enfants autochtones campés dans des décors idéalistes, mais plus réalistes que ceux écrits par ses contemporains.
Certaines de ses œuvres se retrouvent dans Songs of the Great Dominion (1884) par W.D Lighthall, la première anthologie à inclure des poèmes d'auteurs canadiens-français et autochtones. Pauline Johnson traversera le Canada, les États-Unis et l'Angleterre pour faire découvrir ses poèmes.
Ses odes patriotiques et ses nouvelles en feront une ambassadrice appréciée des Canadiens.